---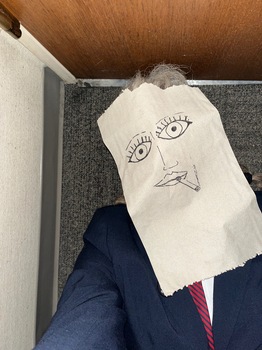 On Break: Random Acts of Defiance in the Workplace
"On Break: Random Acts of Defiance in the Workplace"
I have found a whole new way to utilize my time and the big building I work in, with spaces not open to the public, to create these fleeting, spontaneous, surreptitious acts of deviance on my breaks. They started out as simple drawings but evolved and grew into something more complex. They are very exciting to make: with the clock ticking I'm sometimes crawling on all fours across floors, or using one shoe off as my tripod. Moving around emergency cones to avoid cameras. Dragging a roll of paper found in the trash in to the bathroom. They are as much found opportunities as frantic creations—with the added fear and anxiety of being caught. All of the images were created on weekends when less staff were around. In taking this guerrilla approach to art-making, I'm both stepping out of the limiting notions of what art is and how it can be made as well as what a typical workday is. I'm liberated from both worlds, able to make my own. If I can't be a famous artist, at least I am trying to be a famous museum security guard.
---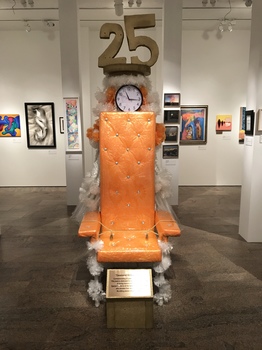 Sit Down Throne 2019
My sit-down throne is the most involved and personal piece I made in 2019 about my life and job as an artist and security guard working at the Metropolitan Museum of Art for a quarter century. It was created from a wooden deck chair, wood, tomato cage, foam, wire mesh, electrical ties, clear vinyl, 25 rhinestone buttons, a metal label made by a trophy manufacturer, and six battery-operated clocks--because a guard's day revolves around time. I upholstered the original chair with salmon-colored dry cleaning bags, decorating the rest of it with clear ones. I had collected dry cleaning bags over many months from my female co-workers. The bags to me were like transparent disembodied bodies of bodies. I wanted to create something grand out of the most modest and personal of materials: a royal chair for working people, and a tribute to people who stand for a living and for their bodies that ache. A silly joke, I tell myself: tired guards guarding chairs they can't sit in. I have a deep appreciation of all the overqualified and very diverse people that work in my department; after 25 years, their lives and stories have become a part of me. Collectively, all of the braided dry cleaning bags make up a self-portrait. Some people told me my piece reminded them of an electric chair, others said it was a memorial to our friend and co-worker David Barney.
Label text: "Ceremonial Sit-Down Throne"
Commemorating 25 years of standing guard
This piece is dedicated to my extended Met family In loving memory of David Barney
Special thanks to all the ladies in the locker room who donated their dry cleaning bags
No sitting please--museum quality
---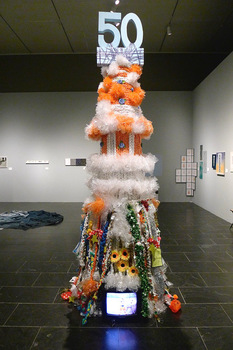 Birthday Thing Number 50
Biirthday Thing Number 50
2015
15' X 3' feet

Wood, wire mesh, blue foam, cable ties, twine, TVs, plastic dry cleaning and shopping bags, bottle caps, wine corks, artificial flowers, and other found objects.
Videos: Dumb Belle, 1:09, 2009 (front) I Burn For You, (back) 3:09, 2015
---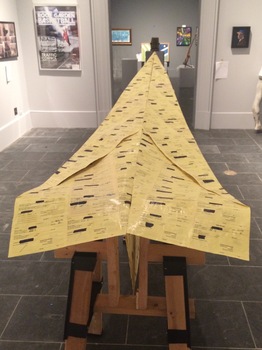 Tomorrow is Another Day
Tomorrow Is Another Day, 2014
Found paper, adhesive, sharpe marker, wood, 8
' x 4'. Making being late an art form. This paper-airplane was made by collected "Late Notices" security guards receive if they are tardy to work. I
also designed this dress to match the paper-airplane to wear at the opening. it's fabric is digital printed.